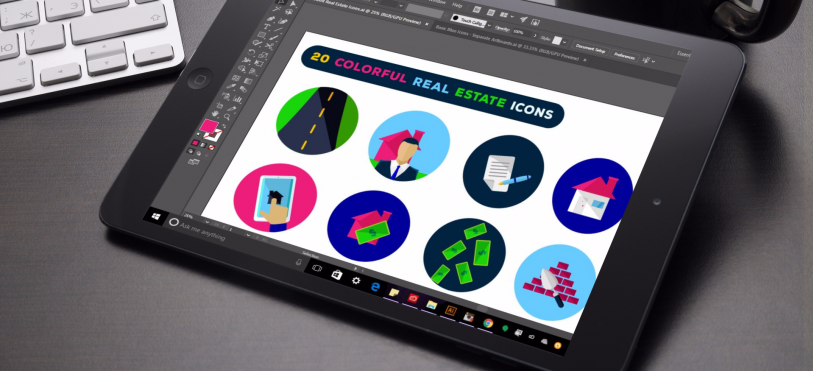 Real estate professionals understand the importance of building networks. On the digital front, savvy agents spend tons of time and energy creating great websites, curating beautiful Pinterest pages, and cultivating an impressive number of Twitter followers. But many in the industry don't realize that an email newsletter is also a crucial component of staying connected with a client base. In this article, we'll first look at WHY email marketing is so important for real estate agents in particular. Then, we'll discuss HOW you can create a newsletter that readers will love getting in their inboxes.
How Do E-Newsletters Help Real Estate Professionals?
1. E-newsletters generate new business.
You already know that the majority of real estate clients come from referrals (a statistic backed up by the National Association of Realtors). A client is only going to buy so many properties in a lifetime. Every happy customer, however, might become an ongoing source of revenue, as each has the potential to provide an endless supply of referrals. By sending useful, engaging emails, your name will be at the top of your former clients' minds when they have friends looking for new homes.
2. Emails reach their targets.
Compared to other forms of digital marketing (Facebook, Pinterest, LinkedIn), email has proven to be much more effective at actually reaching its audience. Other platforms prioritize paid advertisers, making it less likely that your clients will see your most recent updates. (Check out my piece on email marketing stats to learn more.) In addition, readers are more likely to pay attention to an item in their inbox than in their mailbox, making email more effective than print campaigns. Of course, even though email campaigns require less time and money than print advertising, we recognize that most agents won't do away with paper mailings entirely. Thankfully, there are numerous services that allow you to create both at once so you can spend more time on your clients.
3. You'll stand out from the pack.
Email marketing is a great way to remind your clients about the particular strengths and expertise you offer. Through your newsletter's content, you can differentiate yourself from the competition and remind past clients why they were so lucky to find you! Along with your website and social media feeds, your newsletter will help establish your professional brand.
How Can Real Estate Agents Create Emails That Get Results?
1. Focus content on building relationships.
A real estate newsletter is a careful balancing act. Some of your readers are actively looking to buy or sell, but most readers are former clients or people who are still just looking around. An email that's solely about your listings and latest accomplishments is unlikely to impress. Instead, take on other topics that are of interest to homeowners or that reflect your unique expertise. For example, you could send something about local farmers' markets, holiday decorating tips or recent changes in zoning laws.
2. Cultivate your email list.
A bigger address list isn't necessarily better. Real estate agents need to focus on creating a list of engaged readers who are likely to recommend their services to others. To make sure you're only contacting people who really want to hear from you, have a clear opt-in policy for joining your mailing list and make it simple for recipients to unsubscribe. Remember, the goal of the newsletter is to foster relationships and cultivate future leads. You're unlikely to do that with an email blast that goes out to everyone who has ever visited your website.
3. Time your emails well.
You'll do best if you keep your audience wanting more. By sending a message once a month (or even once a quarter), you'll stay engaged with your client base without clogging their inboxes. It's also important to consider when you want an email to go out. Do a little experimentation to find out what works best. Will readers respond more to a message about upcoming open houses if they get it Saturday morning or Wednesday afternoon? What about a message on new highway construction in the neighborhoods you represent? This is where a/b testing can help you improve audience engagement.
4. "Stage" your messages.
Real estate agents have a knack for making homes look their best. Apply that same aesthetic gift to your newsletter. Your readers are more likely to engage with messages that are well-organized; feature attractive images; and contain sharp, typo-free copy. Expect about half of your audience to read your newsletter on a mobile device or tablet, so make sure your messages are just as legible in these formats. This article offers some tips on email design.
Email newsletters are the perfect way to stay in direct contact with former and future clients. If you're a real estate professional looking to start an email campaign but you're not sure where to start, contact us via email or call us at (707) 575-5373.