We can help
You want your website to be found by the right people at the right time. Our Search Engine Optimization services will help your site rise to the top of the search rankings, giving your business the competitive advantage it needs.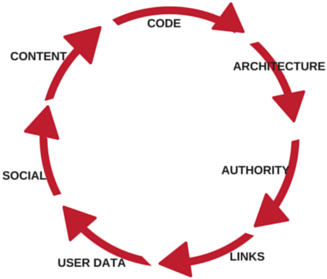 Our powerful SEO strategies revolve around seven key on- and off-page SEO success factors. [see graphic] 
Here's our 10-point formula for Search Engine Ranking success:
Research keywords. With your help, we identify your business goals, customer demographics and target audience. Then we research the keywords that will raise search volumes among the people you want to reach.
Map keywords to content. We analyze your current on-page content and adjust it according to your prime keywords.
Write keyword-based content. We write quality content using prime keywords while staying focused on maximizing user experience.
Optimize content. We adjust URLs, headers and other off-page text to match your keyword strategies.
Build internal links. Having a well-structured page is critical in SEO rankings. We build internal links via navigation bars, sidebars, headers, footers and content.
Build social shares. We build your social media networks and community.
Build off-page authority. We get your site noticed and mentioned by external sources to strengthen authority.
Monitor rankings progress. We give Google the time it takes to index and rank content and monitor progress.
Optimize further. We fix, tweak and improve.
Lather, rinse and repeat. We pay attention to what's working and not working, reverse engineer, and repeat the process.
Ready to get started? Give us a call today.