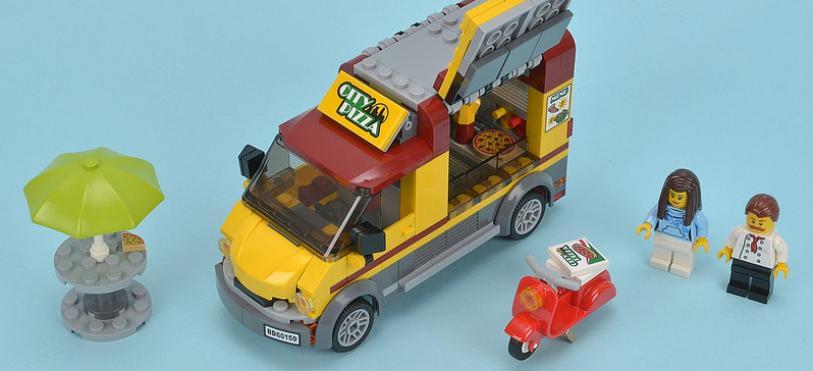 Note: Since we originally published this article in 2017, we've changed the name of our Local SEO services to Local Listings, in an effort to clarify the what the service actually is.
By Jennifer Chan
Local search engine optimization (Local SEO) is one of the core services we provide at Nu-Designs Digital, and frankly, it's a constant source of confusion for some people. Questions we hear all the time include: What is Local SEO? How is it different from regular SEO? Is it really important for my business? And finally, if I need it, how do I do it? With this article, I hope to clear up some of that confusion. I'm going to talk about what Local SEO is and why you may (or may not) need a Local SEO plan. At the end, I'll give you a few DIY tips for implementing your own Local SEO strategies.
What is Local SEO and how is it different from traditional SEO?
Local SEO involves using particular strategies to help local businesses appear in the local 3-pack at the top of the Search Engine Results Page (SERP). In addition, these strategies help businesses appear at the top of the standard search engine results when a user deploys a geo-specific search term such as "pizza near Calistoga" or "Petaluma auto repair." Finally, Local SEO can help businesses appear on map searches when users use apps such as Google Maps.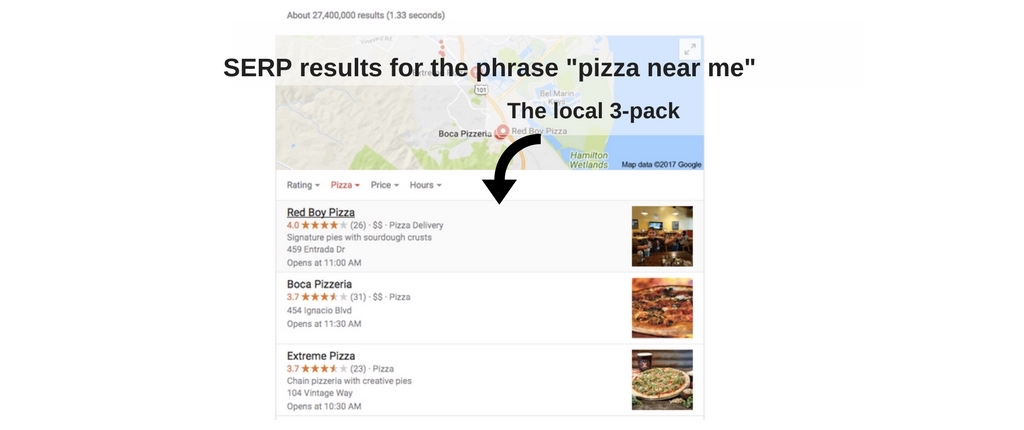 Broadly, Local SEO is a subset of all SEO strategies. By definition, all SEO strategies involve helping a website rank higher in search, in any form. More narrowly, however, most traditional SEO involves making both on-page and behind-the-scenes changes to a website. In contrast, while Local SEO strategies can include website updates, many Local SEO strategies take place off-page (see below).
How important is Local SEO for my business? Will it help my bottom line?
The efficacy of your Local SEO efforts depends on the type of business you operate. Local SEO is essential for any business that serves consumers within a particular locale. "Pizza" is one of the most obvious (and often-used) examples of how and why this is. The screenshot above shows the results of a search for "pizza near me." Google estimates there are more than 2,500 searches annually for "pizza near me" in Novato alone (480,000 in the United States). If I want pizza, the chances are extremely good that I'm going to call one of the places listed in the local 3-pack. If your business sells pizza (or coffee, auto repairs, etc.), make sure you do everything you can to get listed in that local 3-pack.
Local 3-Pack: Three search results listing a company's name, address, and phone number with locations pinned on a map and corralled at the top of the SERP.
Even if you aren't a purveyor of hot, cheesy goodness, you should still pay attention to Local SEO. All companies that have brick-and-mortar locations (dental practices, beauty parlors, etc.) should try to show in the 3-pack, but so should any company that offers local services, such as tax preparation, roofing or, dare I say it, digital marketing. Searchers in need of a new roof probably won't make an immediate purchase from their smartphones. They will, however, use those phones to make that crucial exploratory call for more information, and the companies they call first will probably be those featured in the local 3-pack. Any business whose core clientele is geo-specific should be optimizing for local, even if some customers are from another region.
Of course, there are businesses for whom Local SEO is less important. Online retailers don't usually have a geo-specific consumer base. In addition, websites that provide information rather then goods or services rarely appear (or want to appear) in the local 3-pack. Consequently, large news organizations, boutique purveyors of fashion advice and niche travel sites don't need to focus on Local SEO. That said, there is evidence that Local SEO efforts help the general SEO of all websites, and I'm fairly certain both Amazon and The New York Times implement at least some Local SEO strategies.
In summary, Local SEO will help your business if you want your website to appear:
In the local 3-pack
For searches such as "…near me" or "Petaluma…"
On maps
If these are important to you, prioritize Local SEO. If not, focus your SEO efforts elsewhere.
I need to optimize my website for local searches. How do I do it?
Once you've determined Local SEO will help your business, it's time to make a plan. Many companies provide Local SEO services, Nu-Designs Digital among them. But if paying for these services is out of your budget, there are a few DIY tasks you can (and should) do. Here are the top five:
Make your NAP consistent everywhere on the web. This is also known as citation consistency. NAP stands for name, address and phone number. Google uses NAP as a key indicator of the legitimacy of a business. Consequently, it's essential for your NAP to appear the same on every page of your website, in the code of your website and in every citation of your business on other websites (a citation is simply a mention of your business and business details on another website).
Take note: While citation consistency can be the piece that pushes you into the local 3-pack, it's more about building your foundation than providing you with a cutting edge. In other words, cleaning up your NAP is like brushing your teeth—alone, it probably won't make great things happen (straight, white teeth; a huge jump in rankings), but it may prevent bad things from happening (tooth decay; a drop in rankings).

Claim and clean your directory listings. Most citations of your website will be in directory listings. A directory is simply an online list of businesses. Directories can be broad and well-known (Yelp), unfamiliar to most (bigwigbiz.com), and/or niche or local (business listings on the Novato Chamber of Commerce website). Notably, many directories list businesses whether or not the businesses themselves have created listings. In these cases, the listings often contain incorrect data, which will work against your efforts at making your NAP consistent. Consequently, it's important to claim and clean your many listings across the web. Keep those teeth healthy.
Take note: web directories change all the time. You don't have to clean your listings every night before bed—but you should make a habit of checking and cleaning your listings regularly.

Claim your Google My Business listing. Google My Business (GMB) is to online directories what The Godfather is to cinema. If you plan to update just one citation, make it GMB. Keeping your GMB listing accurate is essential for anyone trying to build Local SEO.
Solicit and monitor online reviews. Reviews are another key way Google judges the authenticity and value of your business. Ask customers/clients to post reviews on sites like Yelp, Google and Facebook. More importantly, make sure you're aware of and respond to any negative reviews that pop up on either major or obscure sites.
Pay attention to onsite SEO. While most Local SEO strategies involve work done off-page, don't forget your on-page efforts as well. In addition to performing all of your standard SEO work, you can boost Local SEO by:
Including references on your site to the neighborhoods and towns in your service area.
Publishing location-specific blog posts.
Including particular towns or locations in your meta tags, image titles and meta descriptions.
And that's it! If you have any questions, tweet us @nudesigns. As always, we'd love to help you implement a Local SEO plan. Call us at (707) 575-5373 to get started.