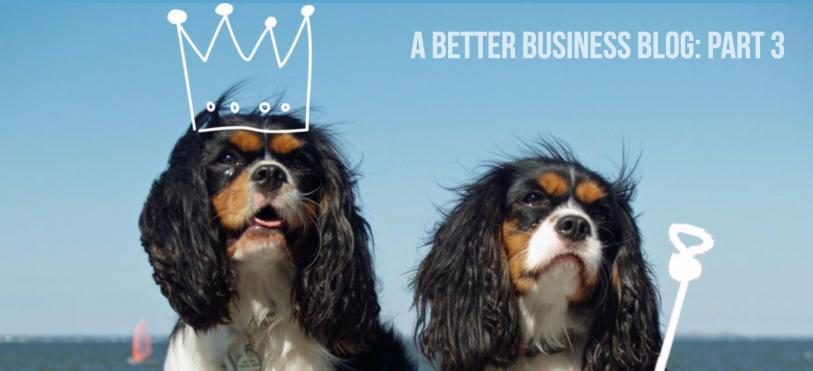 By Jennifer Chan
This post is Part III in our Better Business Blog series. Read Part I and Part II here. 
If content is king, then SEO is parliament. 18th-century England needed both to govern its colonial empire. So does your blog. 
For the most part, the strategies you'll use to optimize your blog for search will be the same as those you use to optimize your site as a whole. The difference lies in practice. Since most of your webpages remain static, you—or better, your developer—can optimize once and (mostly) walk away. Your blog page, on the other hand, will be changing with every new post, each of which needs to be optimized. Make things easier on yourself by developing a blog optimization shorthand: a checklist of actions you can do quickly and easily that will increase your blog's (and website's) ranking in Search. 
Here's a sample of what that checklist should include:
Identify 3 - 7 relevant keywords.
These, of course, are the same relevant keywords you selected when preparing the content of the post.
Use keyword-rich, natural language
Your post contains many parts, some of which are listed below. ​While you want those tags and titles to be keyword-rich, you also want to use natural language. This serves two purposes:
Whether it's because an image is slow to load or there's an error, users will see this backend language on occasion, so you want to make sure it's not nonsensical.
The Google bots are surprisingly smart and reward natural language over keyword stuffing.
Title tag
Give all posts a keyword-rich title tag. 
Custom URL
Your URL should include your keywords and reflect the title of the post. 
Meta description
Make sure you have a well-thought-out meta description that summarizes the subject of the post and is keyword-rich. 
Use both a Title Heading (H1) and Section Headings (H2, H3, etc.)
Headings help structure your blog post by breaking it into scannable blocks that both readers and Google appreciate.
Image file names
Name your image files descriptively, using relevant keywords. For example, name an image file "lake-oroville-brimming-over" as opposed to "Image #2."
Image ALT tags
Every image should have an ALT tag with relevant keywords. Users will see the tag when images don't load, so it should also describe the image in natural language. Example: "Lake Oroville is completely full" as opposed to "Oroville-brimming-Dam-reservoir."
Next post: Measurements