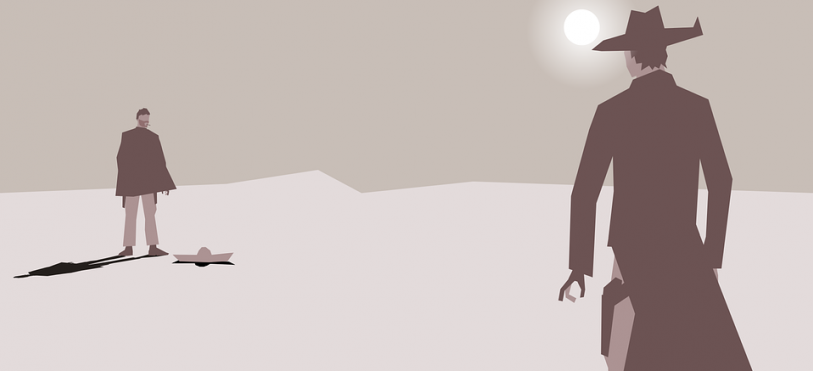 Is it better to advertise on Google or Facebook?
As a small-business owner, you have to choose where to spend your digital advertising dollars. While there are plenty of niche advertising channels, for the most part, you'll be choosing between two goliaths: Google and Facebook. Google, with its 40,000 search queries per second, is the biggest, baddest player in the digital arena. But Facebook, with 1.4 million active users per day, is no slouch. So, when it comes to allocating the precious resources of a small business, which platform should win? Should you be focusing on Google AdWords or Facebook Ads?
It depends on your goals.
In general, Google AdWords works better for immediate lead generation, while Facebook is better for generating interest. But of course, every industry, company and ad strategy is different. You'll need to make decisions based on an understanding of the differences between the two platforms and knowledge of your own unique situation. We can't address the latter directly, but we can help with the former.
The chart below illustrates the differences between Google Search Ads and Facebook Ads.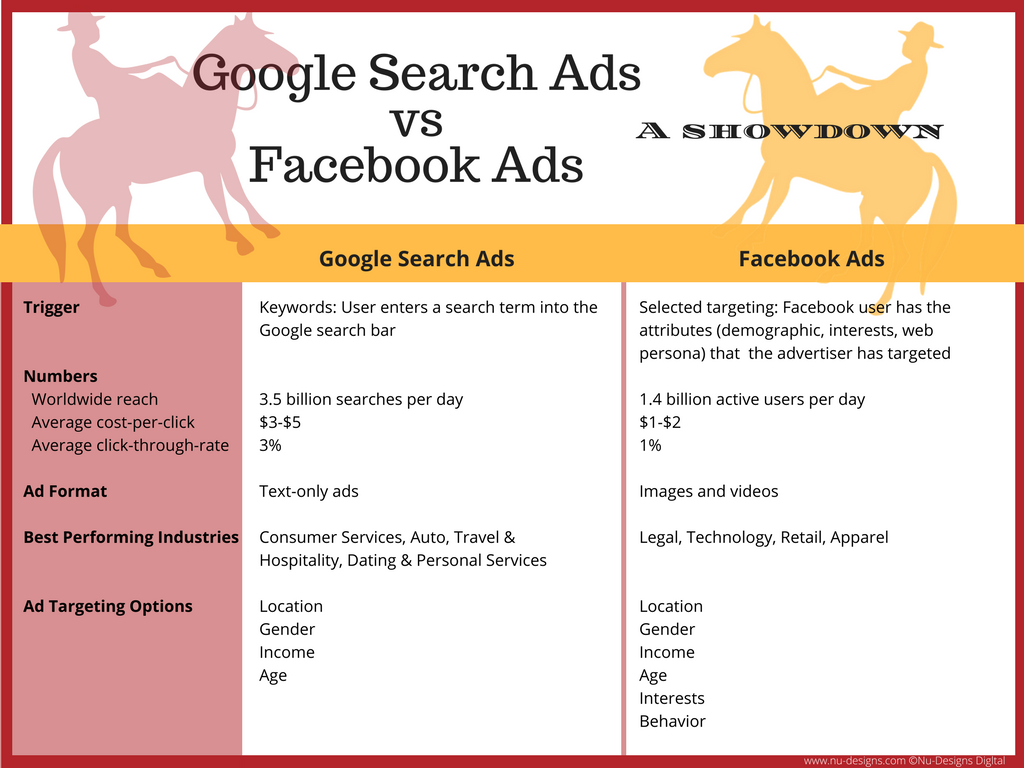 What do these differences mean for your business?
Ad Triggers
Ad Triggers prompt Google or Facebook to show an ad to a particular user.
Google Search Ads appear when a user conducts a search (on Google) using a combination of the keywords advertisers have pre-selected. In other words, Google Search Ads only get shown to users who are actively seeking a particular service or product. Facebook Ads, on the other hand, appear when a user matches a set of characteristics identified by an advertiser. These characteristics include things like interests, demographics, location, previous online activity and Facebook friend group. So, Facebook Ads will appear to users who have a general interest in your business but are not actively seeking your products or services in that moment.
As a result, if someone performs a Google search for "collision repair near me," it's very likely they need a local auto body shop. Consequently, this searcher is more likely to:
Click on an auto body shop ad
Ultimately become a customer of that shop
On Facebook, showing ads to local users who are interested in cars is less likely to produce immediate conversions. If, however, your business restores classic cars, engaging on Facebook with a vintage Chevrolet fan may generate a long-term relationship with a new client.
The Numbers
Reach, cost-per-click (CPC) and click-through rate (CTR) are important measurements in any digital advertising campaign. On average, the CPC for Google Search Ads is higher than that of Facebook. As a result, Google Search Ads cost more than Facebook Ads. But Google's ad triggering method also results in a higher average CTR and, ultimately, more sales (in theory, at least).
Ad Format
Google Search Ads are always text-only. Facebook Ads, on the other hand, always have between one and many images or videos. If your product or service is visually appealing (clothing, interior design), Facebook may be a good platform for you.
Industry
Some industries perform better on Google, while others perform better on Facebook. Sometimes, this is simply because one platform has become more competitive in that particular field. If you'd like to see how well your industry might perform, check out WordStream's helpful research on industry performance on both platforms.
Ad Targeting Options
Both Facebook Ads and Google Search Ads allow their targeting to be fine-tuned. On both, advertisers can (and should) limit their geographic and demographic reach. Facebook's targeting options, however, go much deeper than those of Google. Again, all Facebook ads are triggered by user characteristics. For example, unlike Google, with Facebook you can target "Chevrolet enthusiasts living near Walnut Creek who also like NASCAR and use Facebook daily."
And there you have it! Of course, both of these complex platforms offer many more features and options, so there are further differences (and similarities) between the two. Still, it's a start! If you have any questions or you're wondering which would be better for your business, call us at (707) 575-5373.