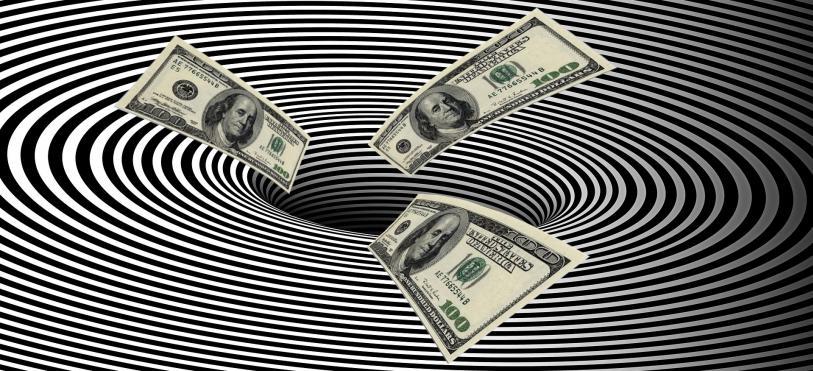 Despite the importance of digital marketing in today's marketplace, most small-business owners don't have the knowledge, time or budget to do it themselves. That's why a digital marketing agency (DMA) can be an invaluable resource to grow your business and outpace the competition. However, while a quality agency can yield positive results (like lead generation and improved search performance), not all agencies fit that description.
The unfortunate truth is there are plenty of DMAs that provide very little value for their clients' money. For the most part, they're able to do this because their clients are unfamiliar with digital marketing practices and thus unable to tell a quality agency apart from a subpar or flat-out shady one. Fortunately, there are indicators that can help you identify when you're dealing with the latter. Here are seven signs a DMA is (probably) going to waste your money:
1. They don't assign you a direct point of contact.
One of the biggest signs a DMA is going to waste your money is if they don't designate a representative for you to correspond with. Without a direct point of contact, your experience with the agency is bound to be underwhelming, and more likely frustrating. After all, how can you expect to get your questions answered in a timely (and satisfactory) manner when there isn't a person you can call or email directly? Furthermore, what kind of accountability can there be when you can't even interact with a real person? That's why you should always expect an agency to provide you with a direct point of contact—not just for the initial consultation and setup, but for the full extent of your relationship.
2. They don't offer customization.
Every business is unique and as such has unique marketing needs. Many DMAs offer "one size fits all" marketing packages that include a fixed suite of services. While a predesigned marketing package isn't necessarily a bad thing, if it doesn't align with your specific needs, you'll likely end up paying for things you don't need and/or not getting enough of what you do. A quality DMA understands that its clients have unique needs and therefore offers flexible service and customized strategies.
Of course, customization doesn't just apply to strategies and tactics—it also relates to design and presentation. Some agencies only offer cookie-cutter template website designs, so if you want your website to be as unique as your business, be sure to find one that can provide customized design.
3. They don't ask for your input.
In order to create an effective marketing campaign, a DMA needs to have an understanding of your business and industry. This means learning:
• The particular challenges businesses in your industry face
• The level of competition, both locally and industry-wide
• The demographics your business is (and should be) targeting
• What consumers look for when searching online for similar types of businesses
Without this information, the agency will have little basis for creating your marketing campaign, which will likely lead to a digital dead-end. In contrast, a quality agency will take the time to get acquainted with your business and industry and utilize this information to create an effective marketing strategy.
4. They rely solely on your input.
While a DMA should source your experience and knowledge to create your business' campaign, you shouldn't be doing all the heavy lifting. In addition to getting pertinent information from you, an agency should bring their own ideas and digital marketing expertise to the table. If it doesn't seem like this is happening, you probably aren't getting a lot of value for what you're paying.
5. There's a lack of transparency.
One of the most important things a quality DMA provides is transparency. A DMA should be upfront about how your money is being spent, what services and strategies are being utilized, and how the campaign is progressing. Some agencies give their clients complicated stat reports and spew esoteric jargon without actually explaining anything. In contrast, a quality agency will break down stat reports and billing in a way that you can understand. They'll also answer your questions honestly…even if they're not the answers you'd hoped to hear.
6. They don't have an in-house team.
These days, a lot of DMAs outsource their work. Let's not mince words: an agency that farms the bulk of its work to low-paid contractors won't deliver the level of quality you're paying for. Instead of utilizing their expertise to help you, they're handing the job to someone else and reaping a huge profit from their inflated fees.
This isn't to say using contractors is always a bad thing—many good agencies do this to supplement their in-house staff when the workload gets overwhelming. However, contractors shouldn't be the backbone of an agency's operations. A quality DMA will have an in-house team of experienced content creators and SEO strategists to justify the amount of money you're paying.
7. They promise fast results.
While SEO can bring some short-term benefits, for the most part, it's a long-term endeavor. Especially when you have a lot of competition, it takes time to cultivate your business' web presence and show Google that you deserve to rank highly in search. That's why, if a DMA is promising fast results, you should look elsewhere. No agency possesses the secrets of Google's algorithm and none can guarantee how your business will perform against your competition on the web. So, don't be wooed by inflated promises—work with a quality agency that understands the importance of the long game.
Visit our blog for more articles on SEO, digital marketing and growing your business.
Need help with website design or digital marketing? Request a quote.