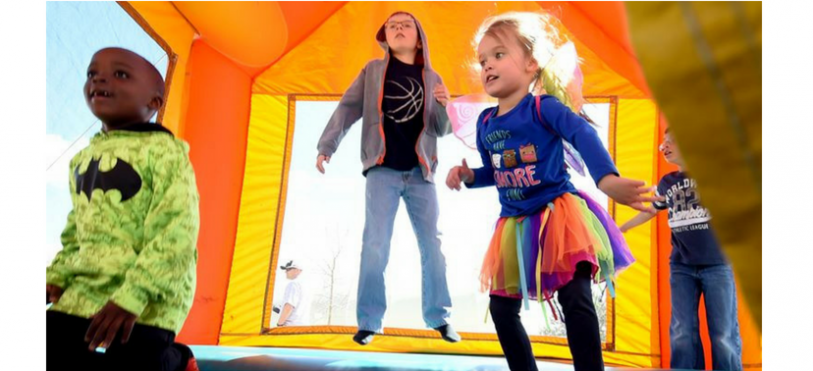 In January 2017, Jim Gerber approached Nu-Designs Digital about running a Google AdWords campaign for his inflatables rental company, Jubilee Jumps. We had completed his new website the previous fall, and now he was ready for that website to produce more high-quality leads. As this Google AdWords case study demonstrates, our partnership accomplished just that.

Jim purchased the 16-year-old Jubilee Jumps in 2015. "I'm actually embarrassed that I didn't start using AdWords and focusing on SEO right off the bat," he says. "We wanted to completely revamp the website, so those items were a priority for the first year. But in 2016, we should have started heavily investing in AdWords and SEO. We didn't, which was a mistake. In 2015 and 2016, gross revenue didn't increase as much as we'd hoped, so we knew we needed to change things."
Hands-down, Jubilee Jumps offers some of the best jump houses in Northern California. As an established company with a strong reputation, it had relied heavily on word-of-mouth referrals. However, as Jim says, "that only takes you so far." In our initial discussions, Jim was clear about his objective: he wanted more high-quality leads. In his case, a high-quality lead is a user who is actively seeking to rent an inflatable or other party equipment and is located within a relatively small geographic radius. "A majority of our business comes from less than 10 to 12 zip codes across Northern California," he explains. "Travel times and mileage have a big impact on the number of reservations we can accommodate, which affects my overall profit margin." In other words, homegrown Sonoma County leads are the most profitable. With AdWords, the only people who see your ads are users who have conducted a search for your type of business and who are located in designated places. Hence, AdWords promised to fulfill Jim's goal of getting the kinds of leads he wants for his business.
We launched Jubilee Jumps' first Google AdWords campaign in February 2017. At the same time, independently, Jim began increasing his advertising spend on Yelp. Historically, Yelp has been a good medium for exposure, and he wanted to see if a higher budget would result in more sales. "Since we started our Yelp spend, we've seen a big increase in lead generation, but the quality of the leads isn't very strong," he says. "Their algorithm seems to be much more broad, so the leads that are generated vary widely. We're seeing about 50 percent of the Yelp leads being of much quality, and we close about 20 percent of those."
"Our phones and web traffic are much heavier year-to-date than this time in 2017, and we're on pace for a 14 percent increase over 2017 gross sales."
In contrast, Jim feels that the leads produced by Google AdWords more often result in sales. He especially likes that we can target particular high-margin zip codes. Moreover, over the course of the past 16 months, we've been able to bring his cost-per-lead down by about 35 percent.
According to Jim, "AdWords and SEO seems to be working!" (Nu-Designs Digital also provides Jubilee Jumps with SEO services.) In fact, it's working so well that with summer fast approaching, Jim ramped up his Google AdWords budget by 60 percent in April. His leads have risen proportionally. More importantly, sales are up. "Our phones and web traffic are much heavier year-to-date than this time in 2017, and we're on pace for a 14 percent increase over 2017 gross sales."
In sum, Google AdWords and Nu-Designs Digital are helping Jubilee Jumps jump to the next level. If you would like to learn more about how Google AdWords can help your business, give us at (707) 575-5373. (You can also read more about how Google AdWords works for small business here). Meanwhile, if you're ready to do some actual jumping, head over to the Jubilee Jumps website and reserve your princess castle today!